SaferVPN review: This newcomer is off to a good start
SaferVPN in brief:
P2P allowed: Netherlands server only
Business location: Tel Aviv, IL
Number of servers: 400+
Number of country locations: 29
Monthly cost: $72 billed annually, or $83.77 for two years
A relative newcomer to the world of VPNs, SaferVPN got its start in 2013 with 150 servers in 24 countries. Over the past four years, it has more than doubled its server count and pushed its country list closer to 30.
SaferVPN is a solid choice in terms of performance, but it has some potential downsides for the extra privacy-conscious.
Features and services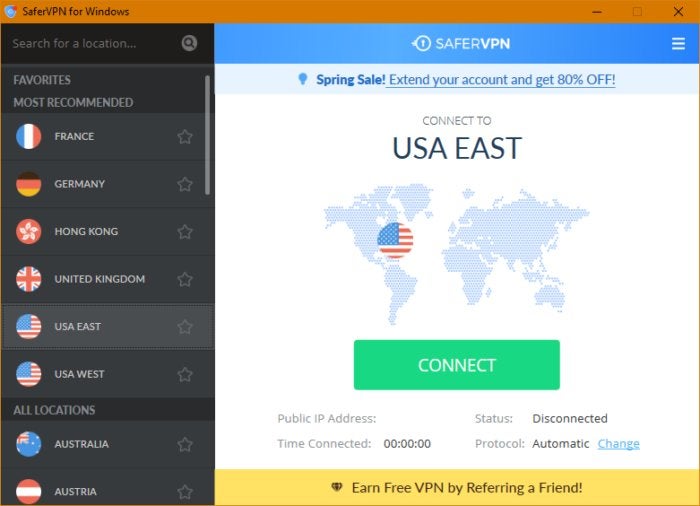 SaferVPN has a very simple interface. The service's desktop program for Windows features two panels. In the main window there's a non-interactive map of the world with current status information such as your PC's current public IP address, connected/disconnected status, VPN protocol used, and time connected.
To the left of that is a list of SaferVPN's possible connections. The list includes 32 options including two U.S. connections, and U.S. and UK streaming servers. Don't get too excited about the U.S. streaming server, however, as it doesn't work with Netflix or Hulu. The UK server, however, did work with Netflix in my tests if you'd like to experience the catalog available to folks on the other side of the pond.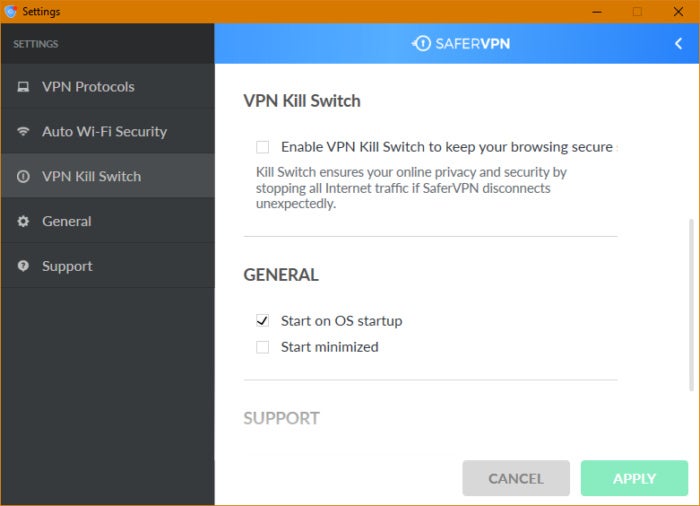 For those who want to get a few extra features, click the "hamburger" menu icon in the upper right-hand corner and select Settings. From there, you can select a specific VPN protocol such as OpenVPN or IKEv2. SaferVPN's settings also include the ability to auto-connect whenever you're on a Wi-Fi connection, and a kill switch to stop internet traffic when the VPN connection goes down.
If there's one quibble I have about SaferVPN, it's that the desktop program does not leave the taskbar when you click the "X" in the upper-right corner. Instead, it just minimizes to the taskbar. This despite the fact that there's an icon in the system tray that could be used to re-open the program window when necessary.
SaferVPN is available for Windows, Mac, Android, and iOS. There is also a Chrome extension and the company sells routers with its services built in. Paid account holders can connect up to five devices at once.
Performance
SaferVPN's speeds were respectable, and, in some cases, very impressive. The German and UK speeds, for example, were close to the base speed. They were about average in the U.S. compared to other VPNs we've tested, which means it easily has what you need for 1080p video streaming. Overall, SaferVPN's average speed in my tests came out to 43 percent of the base speed. That means SaferVPN will definitely get the job done, but we have seen VPNs with faster U.S. connections.
Privacy, anonymity, and trust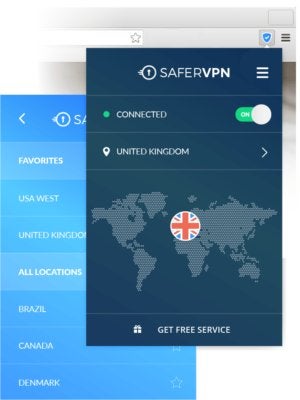 SaferVPN does maintain some metadata about how you use the service, meaning that privacy and anonymity specialists may want to carefully consider this service. SaferVPN is upfront about everything in its privacy policy. SaferVPN says it logs how long and when you connect to its service, the amount of data transmitted, your IP address, and the IP address of the server that you used. It does not monitor or log the data sent over its network or the websites you visit.
For those who like SaferVPN's performance and usability, that may not be a problem. However, the information SaferVPN does retain could be problematic for the more privacy-conscious. The company also retains your home IP address.
SaferVPN begins by allowing you to run a 24-hour free trial. All it requires from you to start is an email and password. If you decide to sign up, SaferVPN accepts Bitcoin, PayPal, and credit cards, allowing for various levels of anonymity when paying.
As far as the company itself, I have personally met with the team to discuss its service at their offices on 22 Nachmani St. in Tel Aviv. The company CEO is Amit Bareket, and co-founder Sagi Gidali is the Chief Procurement Officer (CPO).
Conclusion
For basic users who just want a VPN that works and gets you connected securely over public Wi-Fi or at home, SaferVPN is a good choice. The pricing is higher than you'll find with the other services we've looked at, but overall it's a good service that makes it easy to get started with a VPN.
---
---
---